Environmental System
Meeting Government Regulations
CEO Korea, Site Manager Vietnam and Indonesia are responsible for ensuring that all government requirement documentation is held in the main office. Typically these documents are the operating licences for The Company
The government carry out routine testing and provide the company with test reports, which is currently:
Coating (Annually)
Noise levels (Annually)
Boiler discharge (Annually).
Site Manager holds the reports and if they are satisfactory, they are filed, if not the CEO is immediately advised and an action plan (in writing) will be prepared.
Site Manager routinely reports the current status of the company's performance in relation to the meeting of government standards to the Management Review meeting.
Youngil CEO will be responsible for ensuring the resources are available and the roles allocated for the following:
Environmental matters;
Restricted substances;
Waste water treatment plant (if applicable);
LWG; Environmental testing where required;
Dealing with complaints
It is important that targets are set each year for environmental improvement. These should be set by the Management review team and performance reviewed at each Management review. The following list summarises the key issues that the company will target to achieve each year:
Energy consumption;
Water consumption;
Solvent usage per m2;
Accreditations to be achieved;
Water emission targets;
Air emission targets
Waste recycling targets.
After each year (or maybe every two years) The Company will prepare a summary and this document will be presented to each customer and or publication to others. This report will demonstrate public information and meets the requirements of global reporting as required in the LWG Protocol – section 11
Resources, Roles, Responsibility, and Authority
Roles and responsibilities for activities under the EMS must be clearly defined. The EMS Resources, Roles, Responsibility, and Authority is largely sustained by the voluntary participation and commitment of members of the organization, certain duties are assigned with clear roles and responsibilities and with attendant accountability for performance and results
Below are roles and responsibilities for activities under the EMS, as global team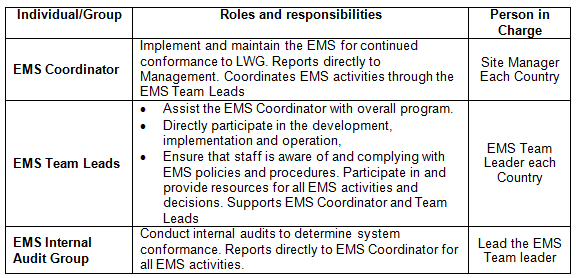 Staff Training
Environmental systems must ensure that staff are well trained and understand the environmental issues relating to their work.
Induction training is relevant to all new staff and as well as the key daily routines of the job the following should be included in the training (and records kept):
Fire and emergency procedures;
Chemical handling (as it relates to the job);
Wearing of PPE.
A copy of the environmental policy is given to each new staff member. Once per year training is reviewed for each staff member and a record kept
Emergency Plans
The company has an emergency plan. This is prepared in association with the local authorities. General Affair is responsible for this Emergency Plans. See on LWG doc# 11 - 19
Documentation
The company will control all documentation related to EMS and it is important that these are maintained in a way in which old documents can be easily found, are up to date and are clear. The following list shows the type of documents we (Youngil Group) may have and need to keep in a neat and tidy manner:
Legal documents.
Important reference documents eg RSL requirements from customers, government regulations, International standards LWG protocol; Test reports for emissions (eg waste water quality test reports),
RSL test reports, boiler test reports;
General communications with customers and suppliers eg requests to show that suppliers of wet blue are LWG accredited, Chemicals are RSL free, MSDS sheets,
Working documents eg dockets that go with each waste disposed of (manifests), tannery process sheets, incoming hides documents (invoice, bill of lading, COO, veterinary certificates etc)
The company define, who is responsible for managing these documents
Internal Audit
Audits allow for an assessment of the implementation and maintenance of the EMS in relation to Youngil Leather Group Policies, Objectives and Targets, LWG requirements, general environmental awareness and compliance with legal and other requirements. Audits also provide a mechanism for identification of opportunities for continual improvement.
Where possible, employees actively participate in audits either as auditors or auditees to increase the awareness and ownership of environmental and community issues and responsibilities. Audit results are reported to the management team to continual improvement of the EMS. Results are communicated to relevant personnel, such that performance can be recognized and addressed. (See Audit sheet.docx, Audit plan.xlsx, LWG 3_Auditing procedure.docx)
Management review & Continual Improvement
It is important periodically to review progress on environmental issues. Each quarter (every 3 months) the management team meets to review the current performance relating to environment. As a minimum the agenda shall review
The Company's compliance to local regulations;
Performance relating to Restricted Substance Legislation;
Conformance to set environmental targets.
The minutes of the meetings and the reports submitted shall be held by Local site managers (for Korea, Vietnam and Indo) and will act a record of reviews and actions taken. All meeting records should also be sent to the CEO to ensure he is aware of the situation. A suggested Management review agenda is provided (man review agenda.doc).
Complaints
In the event that there is a complaint from the local community or individuals (see section 10 for a list of likely causes), the General Affair shall prepare a report and submit this with suggested remedial action to the CEO.
Complaints shall be reported to the Management review
---